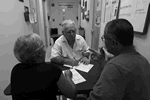 What Services Do We Provide?
Shepherd's Hope provides the kind of health care services you would expect to receive in a family practice setting. Examples of illnesses commonly treated are upper respiratory infections, skin disorders, gynecological concerns, and urinary tract infections.

Shepherd's Hope is not designed to serve as a permanent primary medical home for patients. Our goal is to provide basic, acute, non-emergency medical care, including some diagnostic testing for patients who do not have a regular source of care. Once patients have been treated, we help them find a permanent medical home, whenever possible.

Shepherd's Hope does NOT handle emergencies. Patients with medical emergencies should go to the nearest hospital emergency room.

Shepherd's Hope does NOT provide obstetrical care or well baby care, such as child immunizations.

Shepherd's Hope does NOT handle Workman's Compensation cases.

Who is Eligible to Receive Medical Care?

Men, women and children of all ages are eligible to receive medical care at Shepherd's Hope if they meet the following criteria:

Patients must be uninsured
Patients cannot receive Medicaid or Medicare assistance
Have family income at or below 200% of the Federal Poverty Level

Trained volunteers at each health center meet individually with patients to determine if they meet the criteria.

In some cases patients with Medicaid Share of Cost may be eligible for Shepherd's Hope if they have not met their monthly deductible.

How Much Does It Cost?
All medical care is provided by volunteers at no charge to the patients.

May I Make An Appointment?
Patients are seen at Shepherd's Hope on a walk-in basis, although some follow-up visits may be scheduled. Shepherd's Hope patients are encouraged to arrive early but no earlier than one hour before the center opens, since the facilities are NOT available until the volunteer staff arrive. Because all medical care is provided by volunteers, Shepherd's Hope cannot guarantee that all patients will be seen. Patients who cannot be treated will be given a list of alternate providers and health centers.