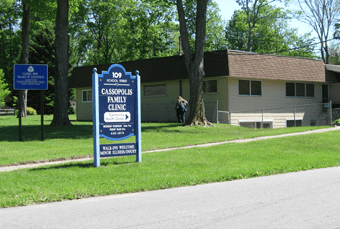 Sliding Scale
Hours: Mon-Thurs - 8am-7pm
Fri - 8am-5pm
Services: Well Care Physicals, Sports Physicals, Immunizations for adults and children, Family Planning, Chronic Disease Management, Treatment for acute illness (fever, cough, sore throat, earache, etc.), Walk-ins welcome for acute illness and minor injury, Laboratory Draw Site for Lakeland HealthCare
Payment: This clinic accepts Medicare, Michigan Medicaid (including Health Plan of Michigan, Care Source and Great Lakes Health Plan HMOs), Berrien Health Plan, Breast & Cervical Cancer Control Program (BCCCP), and commercial insurance plans contracted through Lakeland Care, Inc. As a courtesy they will file insurance for patients who have other commercial insurance plans, but payment in full is expected at the time of service. As well, they offer Reduced Fees Patients who are uninsured or under-insured (no insurance to cover office visits) may apply for our Sliding Fee Scale Program, which is based on household size and gross income. In order to qualify, patients must complete an application and provide proof of income for all adults in the household, including social security benefits and child support for children in the home. Also to qualify patients must meet with a financial counselor prior to their appointment to review the application and income documents to determine eligibility and amount of discount. Keep in mind eligibility for reduced fees is reevaluated annually.
A full payment is expected at the time of service from patients who do not have insurance and are not eligible for reduced fees.
Sliding fee scale payments and Insurance co-payments are due prior to seeing the doctor.