North Shore Health Centers Portage - Stacy McKay Health Center
Address:

Portage, IN - 46368
Phone:
219-763-8112


This clinic operates under a SLIDING SCALE model. This means that it MAY NOT be free depending on your income. You will be required to prove financial need in order to receive free services or services at a reduced cost. This is a health care center funded by the federal government. This means even if you have no insurance you can be covered. The center is also income based for those making an income. This health center can cover services such as checkups, treatment, pregnancy care (where applicable), immunizations and child care (where applicable), prescription medicine and mental and substance abuse where applicable. Contact them at the number provided for full details. North Shore Health Centers Portage - Stacy McKay Health Center is a Community Health Center. In order to get more information on this clinic, click on the icons below. You may be required to join for free in order to access full contact information.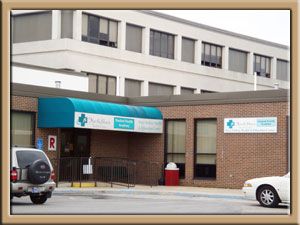 Sliding Scale
Services Available At This Location:
Family Practice
Pediatrics
Dental
Teen Clinic

Stacy McKay Center Hours:

Monday - Thursday: 8:30am - 5:00pm
Friday: 8:30am - 3:00pm

Stacy McKay DENTAL Hours:

Monday & Wednesday: 8:00am - 7:00pm
Tuesday & Thursday: 8:00am - 5:00pm
Friday: 8:00am - 3:00pm

The clinic is attached to the east side of Portage High School East, near the intersection of Highway 6 and Airport Road. Enter school property off of Airport Road just north of the student parking lot. Head west, then turn left (south) at the school building. Watch for clinic parking signs.

NorthShore Health Centers offer services to individuals of all ages regardless of ability to pay, and may use any of the following methods of payment:
Medicaid and Hoosier Healthwise recipients who request to see our Medicaid-approved physician as their primary health care provider.
Privately insured individuals who choose the NorthShore Health Centers as their health care provider and Medical Home.
Uninsured individuals will be charged for services based on an income sliding scale. There will only be a minimum charge per visit.
Medicare recipients.
Everyone! No patient will be denied medical care regardless of age, sex, race, religion, or ability to pay for service.
---
Crowd Source Service Rates - Let Our Users Know If You Paid During Your Visit
Have you visited North Shore Health Centers Portage - Stacy McKay Health Center before? Let our users know, some cost details!
Attention
We cannot guarantee the clinic costs to be completely accurate. Costs are displayed for informational purposes for our users. We have compiled prices provided by users and online research. In order to obtain actual costs please contact North Shore Health Centers Portage - Stacy McKay Health Center directly.
Be the first to add a price for services! No rates have been added.