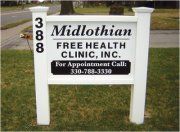 Mission
We believe everyone has a right to quality medical care, provided by health
professionals who treat patients with dignity, respect and compassion. We believe
patients are more than their disease. They are individuals with unique histories, values,
and character. We believe that medical providers must be more than technicians;
they must be healers of the mind, body and spirit. To treat only the physical illness will
not solve the problem in the long run. We believe that healing is a team effort and
physicians, medical and non-medical staff and patients must all work together in order
for healing to occur.

We provide hope for the hurt, healing for the suffering, medications for the sick and
treatment for people who are ill. This is the work of the Midlothian Free Health Clinic.
Please help support our cause by becoming a volunteer or by providing a tax deductible
donation.

Description
The MFHC is a 501(C)(3) non-profit corporation and is administered by a
volunteer board composed of individuals who live and work in the target area of
service. The Clinic is staffed by volunteer doctors, nurses and administrative support
staff. All of our volunteers strive to provide a comfortable atmosphere to service the
health care needs of the uninsured in our community. We place strong emphasis on
providing non-judgmental, compassionate care, respecting the dignity and self-worth of
every patient. Currently, the Clinic is open every 2nd and 4th Thursday from 6 p.m. to 10
p.m. of every month. As our patient base grows, so too will our service hours.