Occupy Medical
Address:
Eugene, OR - 97401
Phone:
(541) 316-5743


In order to get more information on this clinic, click on the icons below. You may be required to join for free in order to access full contact information.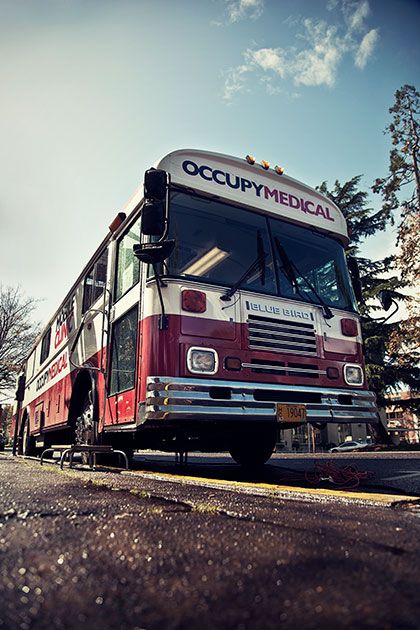 Free mobile integrated heath clinic - Operates Sundays from noon to 4pm. at 509 E. 13th Ave., and at the Park Blocks on 8th and Oak St.; Healthcare is a Human Right.
Site Address: Every Sunday at the downtown Eugene Park Blocks (8th and Oak) between 12-4pm.
Stop taking patients at 3pm, get your name on the list between 11:50am and 1pm to assure your spot "on the bus".
Occupy Medical are a group of dedicated health care professionals and support personnel who believe healthcare is a basic human right that must be made accessible to everyone, regardless of ability to pay.
Since the first Occupy Eugene encampment, Occupy Medical has evolved from a loosely knit association of volunteers providing first aid in the camps into a cohesive team of primary care practitioners delivering no cost, high quality medical services to the Eugene-Springfield community at large. Our current goal is to continue directly addressing the need for access to medical care by offering free medical clinics to all in need throughout Lane County, and hopefully, beyond. We have concluded that the most effective means to reach those who need our services is to create a mobile medical clinic that provides primary care in the towns and cities where the need exists, at a convenient time, and manner appropriate for the populations served.


Crowd Source Service Rates - Let Our Users Know If You Paid During Your Visit
Have you visited Occupy Medical before? Let our users know, some cost details!
Attention
We cannot guarantee the clinic costs to be completely accurate. Costs are displayed for informational purposes for our users. We have compiled prices provided by users and online research. In order to obtain actual costs please contact Occupy Medical directly.
Be the first to add a price for services! No rates have been added.